Ola Maciejewska / FR
ONION OPERA project

presentation of SOLO performance
02.10.2021 / 15.00 / outdoor of Muzeum Susch / entrance free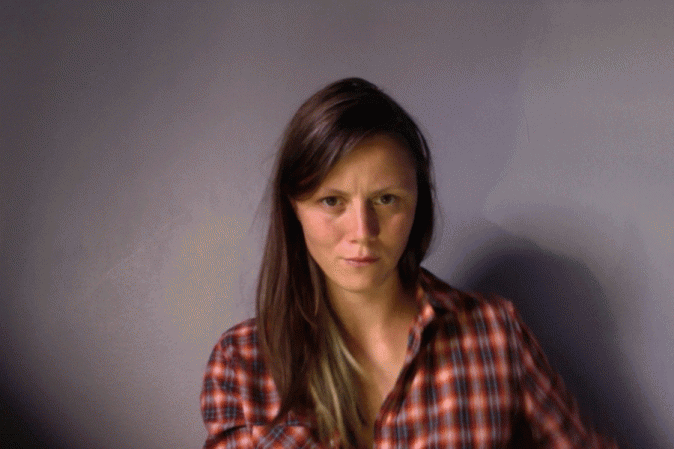 Acziun Susch is happy to welcome Paris based choreographer Ola Maciejewska for a research residency towards her 2022 project ONION OPERA to be premiered at CNDC Angers (March) and in CND Paris Pantin. The project will consist of 3 modules: a SOLO PERFORMANCE, a DANCE FILM, and a PERFORMATIVE WORKSHOP. The performance, film and workshop is made to be played in outdoor locations or indoor architectural volumes not designed for dance. Within the stay in Susch, on Saturday 2.10, Ola will share with us presentation of one of her modules - SOLO PERFORMANCE (work-in-progress).
In the solo performance, the audience is invited to choreographic parkour guided by Ola Maciejewska. The piece invites the audience to experience a powerful sense of being present. The piece acknowledges the specifics of the site. The performance plays tricks on our senses by insisting on questioning how we do perceive our bodies. Have we ever been one and only?
It invests in somatic and poetic transitions that reinforce hybrid, queer, more embodied, and more reconciled world with non-human entities. The performer will perform vocal pieces using beatboxing techniques to evoke imaginary landscapes, multispecies formations, where one sound entity symbolically merges with another to produce unique soundscapes.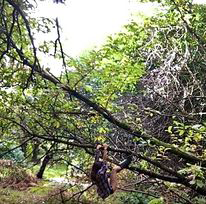 Working outdoors alters the idea of body image. It expands in space and time as far as to all the other heartbeats living on Earth before humans even existed. Working outdoors reminds us that we are all made from the same stuff. To deepen that thought consequently, the process is supported by studies from Natural Sciences: biology, and new directions in botany to investigate how human has been formed and transformed based on encounters with multiple species of plants, fungi, and microbes. Especially the pioneering works by Lynn Margulis who came up with the term multispecies bringing together approaches from Environmental Studies, Science and Technology Studies, and Animal Studies. This specific field of knowledge serves for structuring the scores of the material that is embodied by the voice that incorporates beatboxing techniques, and compositional approaches by La Monte Young and Simone Forti.
Duration: 40 min
Performance: Ola Maciejewska
Free entrance.
***
OLA MACIEJEWSKA
Born in Poland based in France, Ola Maciejewska is a dancer and choreographer. In 2012 she obtained MA from Contemporary Theatre and Dance Studies at the University of Utrecht. Along with the academic research, she made her choreographic debut with a performance, entitled: Loie Fuller: Research (2011) that has been presented at Art Space TENT Rotterdam, CN D Pan)n, École Nationale supérieure des beaux-arts of Paris (in the frame of La Nuit Blanche curated by Palais de Tokyo), FIAC -Interna)onal Contemporary Art Fair in Paris, Zamek Ujazdowski-Center for Contemporary Art, Centre Pompidou-Malaga, 14th edi)on of Biennale de Lyon 'Mondes Flo\ants', Museu de Arte Contemporânea de Serralves, Kanal-Centre Pompidou, Museo Reina Soma and Muzeum Susch (in 2019) just to name few.
In fall 2015, Ola Maciejewska premiered BOMBYX MORI in Paris at la Ménagerie de verre in the framework of the Festival Les Inaccoutumés and has been presented at Kaaitheater, TANZ im August, Museu de Arte Contemporânea de Serralves, Rotterdamse Schouwburg, Veem Huis voor Performance, ImPulsTanz in Vienna and more.
BOMBYX MORI and DANCE CONCERT are supported by Fondation d'entreprise Hermès in the frame of New Serngs. In 2016 until 2018 Ola Maciejewska was associated artist of Centre chorégraphique national de Caen en Normandie. The latest work DANCE CONCERT had its world premiere at National Taichung Theatre in Taiwan and the fall of 2018, it was presented at Centre Pompidou in the frame of Festival d'Automne in France. In 2019, she received a grant from "International Tanzmesse NRW" to make research on the scenography of Rolf Borzik at the Archives of the Pina Bausch Foundation in the fall of 2020.