→ WHO'S AFRAID OF (POLISH) CHOREOGRAPHY?

Ola Maciejewska LOIE FULLER: RESEARCH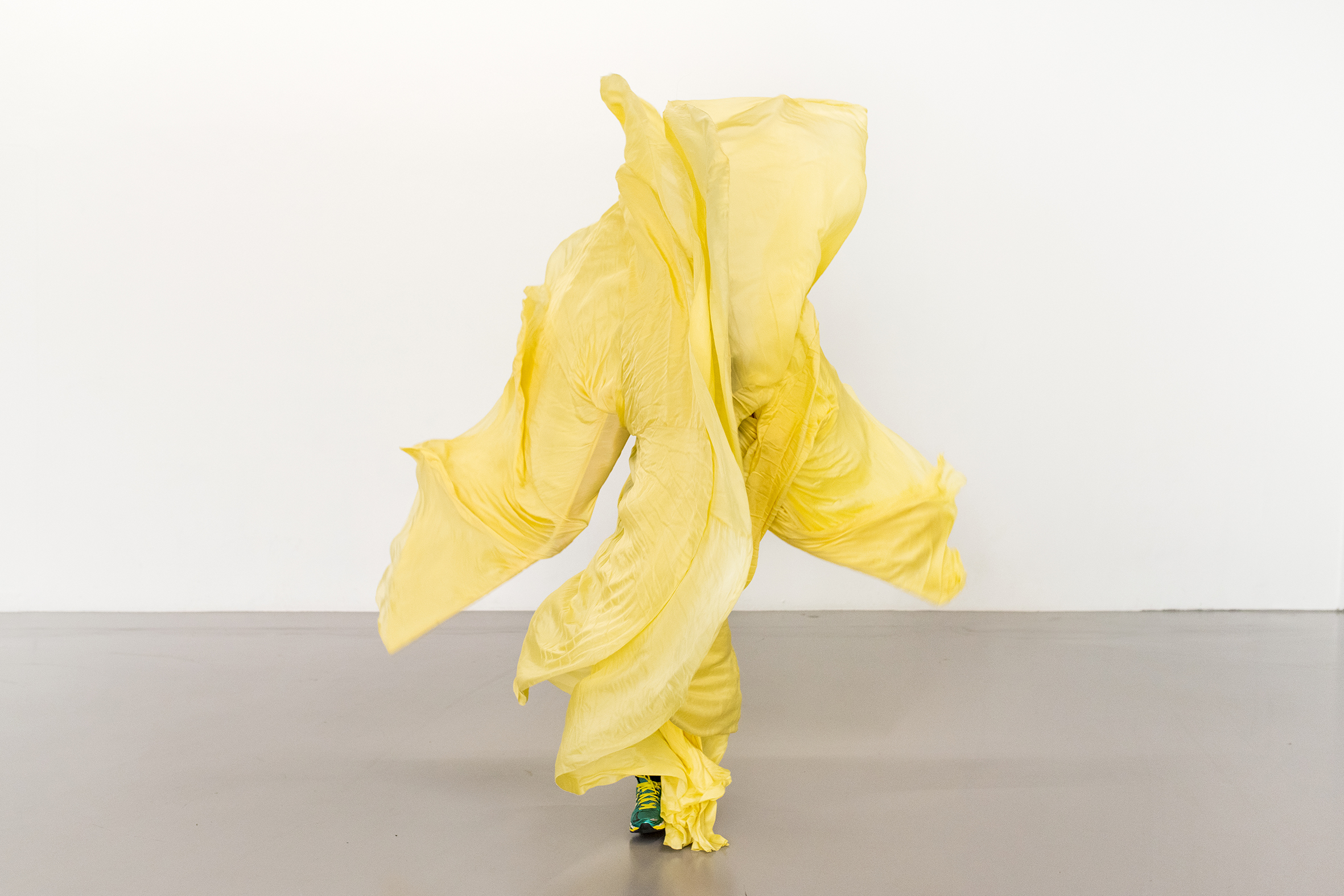 Ola Maciejwska, Loie Fuller: Reserach, fot. Martin Argyrogl

This performance is examining the limits of human agency and the agency of an object in action. LOIE FULLER: Research consists of two exercises. Inspired by the relation between the sculptor (human) and the sculpture (non– human), the workout deals with material agency of the human body and the agency of the artefact ('Dancing Dress') in their continuous relation similar to the act of sculpting. It's a physical practice stimulating the movement of matter receiving form, a movement that emerges as a result of the relationship between the human body and the object ('Dancing Dress'). The idea of the exercise does not aim at strengthening the impulse to live a physical relationship with things; instead it focuses on facilitating forms that make that relationship visible.
performance by: Ola Maciejewska
costume: Jolanta Maciejewska
production and administration: Caroline Redy
production: SO WE MIGHT AS WELL DANCE
commissioned by: TENT Rotterdam/ NL / 2011 / With support of ZEEBELT THEATRE/ NL / Thanks to: Judith Schoneveld
Currently based in Paris, Ola Maciejewska is a dancer and performance artist whose works are distinguished for theirstrong interdisciplinary approach to dance making. In 2012 she obtained anMA from Contemporary Theatre and Dance Studies at the University of Utrecht, and besides her academic research in 2011 she made her debut with a performance appropriating 'Dancing Dress' invented by Loie Fuller, one of the most recognized dance artist of Modernism. Since its premiere, "Loie Fuller: Research" has been presented internationally in many prestigious venues and events (CN D Pantin, École nationale supérieure des beaux-arts of Paris, FIAC -International Contemporary Art Fair in Paris, Zamek Ujazdowski-Center for Contemporary Art in Warsaw, Centre Pompidou-Malaga, 14th Biennale de Lyon, Kanal - Centre Pompidou and Museo Reina Sofía just to name a few). Other successful works by Ola Maciejewskainclude the trio BOMBYX MORI (2015) and the latest DANCE CONCERT (2018) premiered at National Taichung Theatre in Taiwan and presented at the Centre Pompidou in the frame of Festival d'Automne 2018.



↘ Saturday, 30 November 2019
↘ Sunday, 1 December 2019