Anna Huber
Post-residency sharing
1 July 2023
6 PM
Muzeum Susch
CHF 15
On 1 July 2023, as part of Hannah Villiger: Amaze Me exhibition, dancer and choreographer Anna Huber engages her current research in resonance to Hannah Villigers oeuvre and develops an in situ performance at Muzeum Susch.
Artistic quest and interests relate investigation and works of both artists. Coming from different perspectives and backgrounds, both use the body as their material, respectively instrument, and reflect the gaze on the body in its constant change, exploring anatomical laws and boundaries.
Due to the limited number of places, pre-booking necessary – book online here
Experimenting with bodily fragments, details and gestures, the apparently self-evident is questioned and movement possibilities are challenged. Joints are folding, unfolding, limbs interlace, body parts move independently and are rearranged, forms dissolve, body and space are tilting in precarious balances.
Correlations between the human body and the vegetal nature inspire the research. Movements ramify like branches or roots of a tree; veins and nerves draw through the skin like fine lines of a leaf.
The body is explored as a landscape in continuous change and transformation, embracing the potential of the aging body. The skin, permeable envelope of our body, is touching and connecting inside and outside like a sensitive membrane. It embodies vulnerability, breathing boundary, protection, resistance as well as opening and encounter between closeness and distance.
Interstices between inside-outside, opening-closing, vulnerable-robust, visible-invisible, labile-mobile-stable, static-moving reveal inspiring perspectives and amazing discoveries.
Vulnerable and powerful in its presence and intensity, the human body is simultaneously the instrument and object of research, a sensitive and precise seismograph in constant movement with the potential for transformation. Dance in its fleeting nature and immediate physical presence, can stimulate delicate and intense moments of multi-layered perception, leaving fugitive yet persisting traces in space and memory.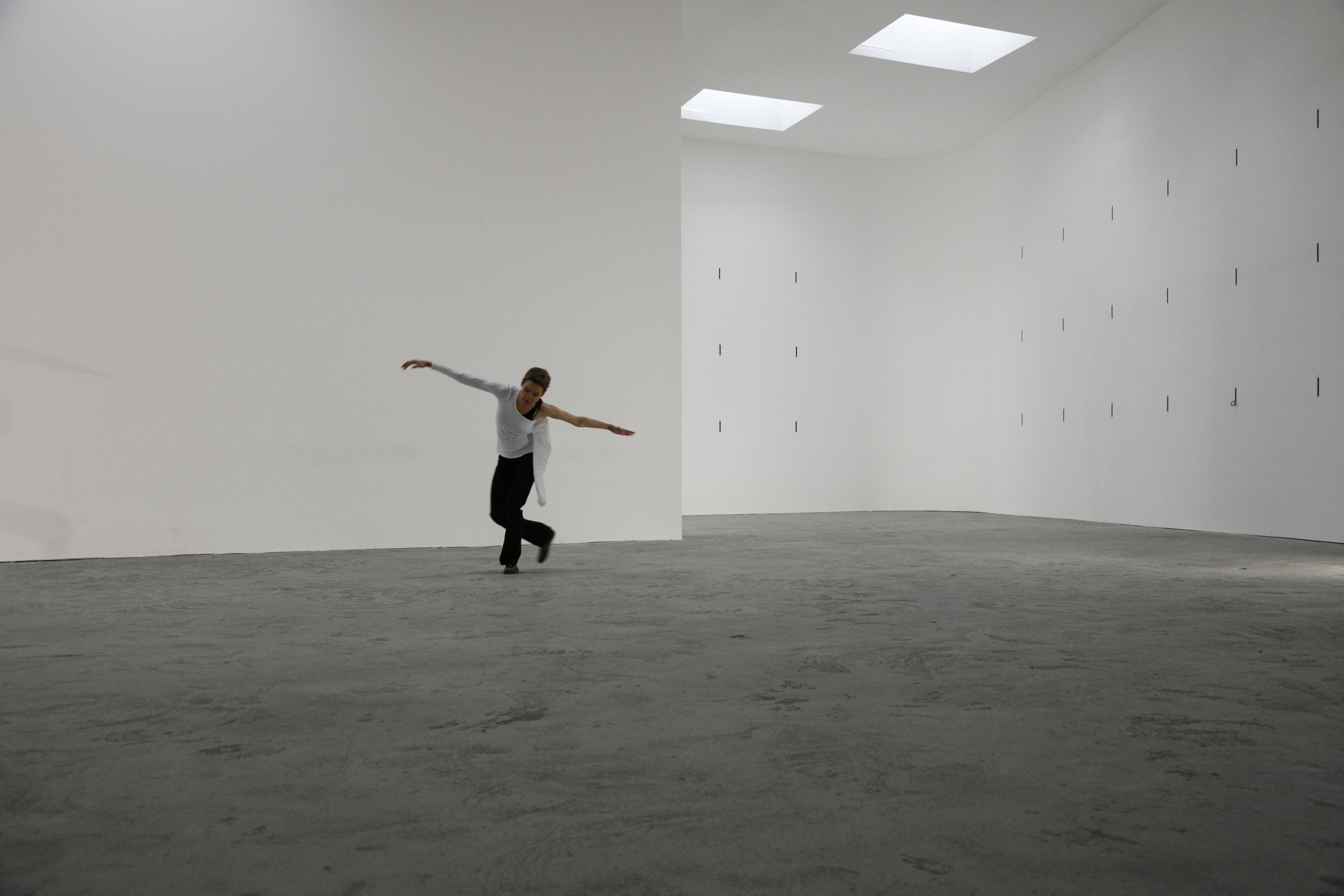 Anna Huber explores movement as a complex, differentiated form of expression at the intersection of performing and visual arts. From 1989 to 2008 she lives and works in Berlin, where she has developed numerous solos, duos, group pieces as well as architecture-specific projects with which she tours internationally since 1995. With her stage pieces, interdisciplinary and space-specific projects and improvisations with live musicians, she develops an independent artistic language, which in its precision, complexity and presence creates moments of perception that are as intense as they are fragile. From 2007 to 2012 she is funded by a cooperation agreement between KulturStadtBern, SWISSLOS/Amt für Kultur Kanton Bern and Pro Helvetia Schweizer Kulturstiftung and is artist in residence at the Dampfzentrale Bern.
Her work has been awarded numerous international prizes and fellowships, including the Hans Reinhart Ring 2002, Swiss Dance and Choreography Prize 2010, Studio Fellowship London of the Zug Cultural Foundation Landis & Gyr 2005, 6-month Studio Fellowship of the City of Bern in New York City 2014, offstage Fellowship Canton Bern 2016, Fellowship Bogliasco Foundation (I), 2015 and 2020, Camargo Foundation (F) 2017. In 2008, 2013 and 2021/22 she holds the Valeska Gert Visiting Professorship for Dance and Performance at the Free University of Berlin. She works internationally as a guest lecturer and mentor at universities and colleges (including ZHdK, HGK Basel, HKB, Uni Bern, FU Berlin, HZT Berlin, HfMDK Frankfurt/Main, University of Hildesheim).