Willi Dorner & Lisa Rastl /AT
9-18.07.2021

Creative residency for Commission 2021
Acziun Susch is very happy to host Austrian artistic duo Lisa Rastl and Willi Dorner for the residency leading to the creation of the project to be premiered in Susch in September 2021.
The project prepared especially for Muzeum Susch will reflect on the perception and the corporal thinking of our body in built environments in general and as a point of start on the museum in Susch in particular. Its unique architecture AND location, the mountains, encompasses many different spaces that are very specific and the spatial design is of interest besides the artworks that are presented there.
The museum and its architecture we want to put forward and for discussion. We would like to visit it together with Mr Schmidt, a blind pedagogue from Vienna, and experience together with him, and from his point of view, the museum and its spaces. We wish to hear how he senses and conceives the building. Being not visually distracted, he depends on his hearing, smell, temperature and his sense of balance and touch.
Which "im-pression" does Mr Schmidt get?
"Im-Pression" is the relevant and appropriate word. The word relies on a bodily experience and expresses a physical experience. Mr Schmidt is closer to all non-visual "impressions" and he is our source of pieces of information and he can deal better with it, as he is so much dependent on them.
All these pieces of information come in on us at the same time and for us visually oriented people all the non-visual impressions get pushed back in our brain and get overlayed by visual images.
How does he deal with this situation?
How does Mr Schmidt assemble his overall impressions?
How does he proceed?
What does he have to do?
Within their residency, we will have a chance to see one of the previous works of Cie. Willi Dorner – a performance for two called ONE. See here.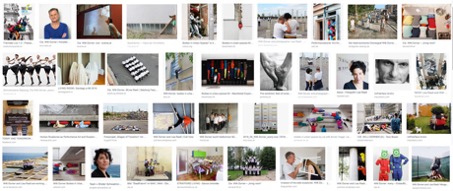 At the beginning of their cooperation was the project 'Feet of Contemporary Choreographers'. Their common interest in architecture and built environment took them further in collaborating - Lisa Rastl as a photographer and her visual perspective on space and contrary Willi Dorner in his physical practice and his bodily perception of our built surroundings.
The photos, films, the documentary and its descriptions testify and prove their deep understanding of bodies in relationship to space and architecture that they developed throughout their projects over the years.

Their work has been shown in Festivals and art Institutions such as
Art Basel/Basel; Turner Contemporary/Margate/UK; Garage Moscow; Deutsches Hygienemuseum/Dresden/D; National Museum of Modern and Contemporary Art/Seoul/Corea; Valetta/Cultural Capital 2018; Riga/Cultural Capital 2014; Lentos/Linz/A; Theatermuseum/Vienna/A; Kunstpavillion/Innsbruck/A; Musee d`art Contemporaine, Vitry-sur Seine, F.


https://www.dornerrastl.at