19-30 July 2022
Maria Zimpel /research residency
Research for the Love Project
Maria Zimpel: Love Project is not about a romantic love. It is about love in a sense of the energy that swirls all around and within us. Love is what makes communication possible: within nature, between humans and nature and among humans. Everything is energy. A thought is a subtle form of energy, which can become very powerful. Intension has a direction and it makes the energy travel. We are influencing the world around and within us with thoughts, words and actions.

In the Love Project, together with the dancer Yasutake Shimaji, the filmmaker Claudio von Planta, the stage and costume designer Natalia Mleczak and the composer Mooryc - I will continue exploring the idea of a body as a transmitter and the ecofeminism idea of the embodied Nature - this time on a microlevel and in a dance duet.

During the artistic residency period in Muzeum Susch I will combine movement research with a process of tuning to the Nature.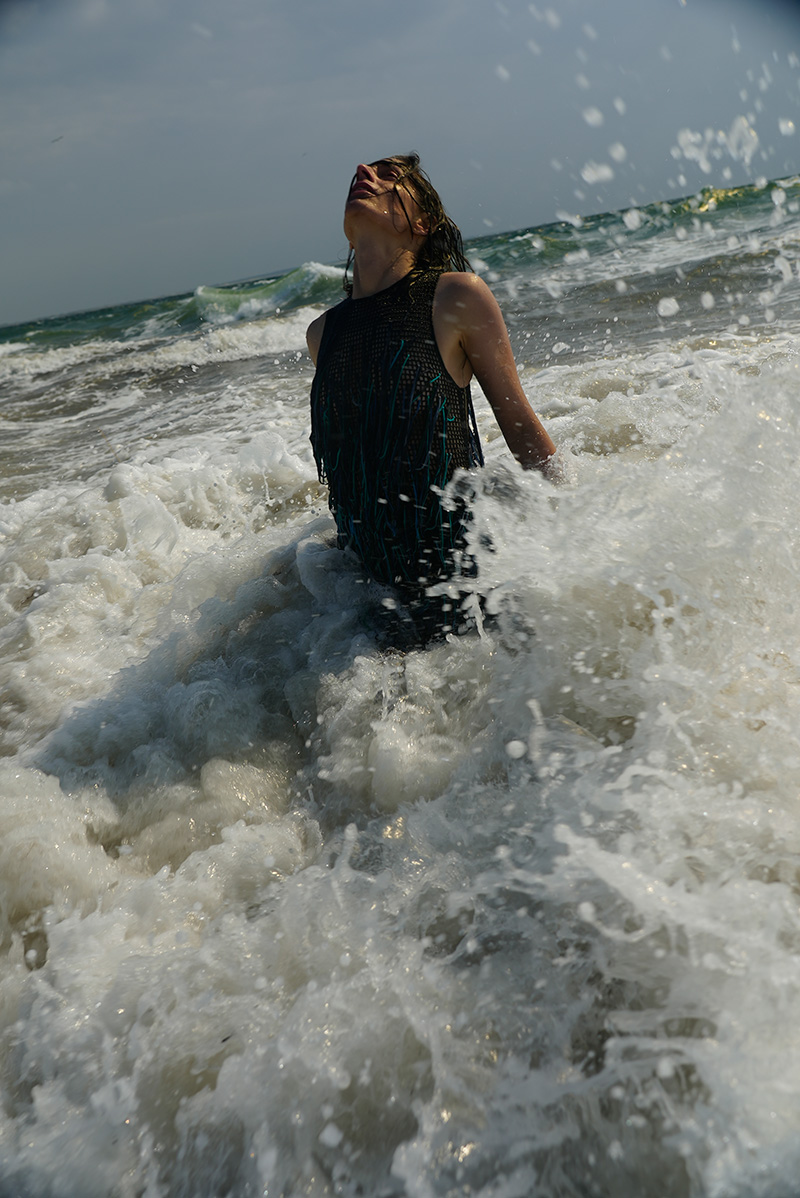 Maria Zimpel choreographer, dance artist, creates her own dance language, exploring limits of physicality. Her choreographies are often modular structures based on semi repetitive movement patterns. She draws on somatics and autobiographical abstraction. She is an author of many solo and collaborative projects, such as Noish~, (2015) Body and Fiction (2018), Space Gives Place (2020), film WATERDANCES/Yes Poems (2021), Motions of Revolution (2022) shown internationally. As a dancer she worked with radical artists such as: Rosalind Crisp, Isabelle Schad, Kat Valastur. Studied "Dance, Choreography and Context" at HZT (Hochschulübergreifendes Zentrum Tanz) in Berlin at University of the Arts (UdK), and Cultural Studies at Adam Mickiewicz University in Poznań and the Friedrich Alexander Universität Erlangen-Nürnberg. Her choreography "Noish~" was selected for the European Platform AerowavesTwenty 2016, and Polish Dance Platform in 2017. During the K3 residency in Hamburg 2019/2020, she combined the research in quantum physics and dance, exploring the idea of dance as an elementary force creating and transforming places. In 2021 with support of National Performance Network NPN-Stepping Out and Muzeum Susch, Art Stations Foundation by Grażyna Kulczyk, she debuted with full length experimental dance film WATERDANCES/Yes Poems, in collaboration with documentary filmmaker Claudio von Planta. Together they explore her idea of a body as a transmitter and an ecofeminist concept of an embodied nature. Based in Hamburg.
Discover earlier projects by Maria Zimpel here.